How To Use Self-tanners And Bronzers Lotion For Your Face In 2021?
Do you wish to get a natural-looking facial tan and spend hours under the sun to tan your skin but end up with a sunburn?
Thanks to facial-self tanners and bronzers lotions or creams which tan your face naturally. Now you don't need to spend a couple of hours under the sun to tan your skin with harmful UV rays. Instead, you can apply the bronzer-tanning lotion or cream to the areas of your face or body that you wish to tan so that you can get a natural-looking tan.
The tan from your self-tanner can last for about a week before it fades because self-tanners work on the outer layer of your skin. You can also find self-tanners that contain bronzing agents to give a more even and natural look. A bronzing agent helps the tanner show its long-term effects while and covers any missed spots.
Our best body Self-tanning Lotion Facial Sunless is formulated for an iconic, natural, and healthy-looking tan. You can use our best-selling body Self-tanning Lotion Facial Sunless, formulated with organic aloe vera leaf juice, organic shea butter, and dihydroxyacetone (DHA). This product is lightweight, longest-lasting, and tan your skin tone in one application.
The quick-drying, streak-free formula of this self-tanner lotion will give you instant color. It is designed to gradually deliver an even, bronzed glow while softening and nourishing the skin. A bronzed glow appears within hours with one use, while continued use results in a gradually deepening skin tone.
What is the Difference Between Tanners And Bronzers?
A bronzer, including carmine, caramel, and other colorants used in cosmetic products, works like a colored cosmetic to instantly provide a tan color. In addition, bronzers are helpful color guides to ensure streak-free and even apply for a natural look.
Bronzers, always work instantly to give you an equally even tanned look. They are like cosmetic products that you apply to your skin. Moreover, tan from self-tanners lasts longer, and bronzers have a short-term effect.
Self-tanners are of many forms, including creams, sprays, serums, and creams. Some of them work instantly, while some require regular applications for maximum effects. Lotions and serums are usually better for the skin because they nourish and hydrate your skin and the tanning effects! You can choose according to your choice.
A sunless tanner takes time to develop but lasts longer because a sunless tanner contains a reactive material like dihydrox­yacetone (DHA) as the tanning agent. DHA combines with proteins and amino acids found in the skin to create the color of the sunless tan. As a result, a sunless tan typically develops in 2-4 hours and lasts many days.
5 Types of Self-Tanning Products Available (Self-tanners And Bronzers)
1. Gradual Self-Tanner
This tanner gives a sun-kissed tan throughout a couple of days and the best type to gradually tan.
2. Self-Tanner Lotion
This tanner lotion develops the tan around 6-8 hours after its first application but applies it evenly to avoid streaks. This is recommended for those people who are experienced with self-tanning.
3. Self-Tanner Mist
You can quickly get to your hard-to-reach spot and back with this tanner mist.
4. Self-Tanner Mouse
This tanner can quickly get out of control but requires using a glove for application because it has a thicker and darker formula than other lotions.
5. Self-Tanner Serum
Serums have a lower amount of DHA or lighter formula and are made for facial application only.
How To Apply Self-tanner On Your Face Like A Pro?
We have shared how to apply sunless face tanner like a pro. Ready to get your face tan on? Follow the steps below!
Step #1: Cleanse Your Face
Cleanse your skin before you apply self-tanner to your face.
Step #2: Gently Scrub Your Skin
Gently scrub your skin to remove dead skin cells from your skin's surface to avoid a streaky self-tanner.
Step #3: Moisturize
Apply a facial moisturizer after exfoliating to create a smooth base for your self-tanner.
Step #4: Select Your Self-tanner
Develops our bronze and golden tan over your face, body, arms, and legs, which is perfect for everyday wear, weddings, events, and more. In addition, our smooth sunless tanning cream is giving a long-lasting all-over natural-looking summer shine.
Step #5: Match Your Face To Your Body
The key to creating a summer tan is applying a self-tanner all over your body for a consistent look. Here is our best self-tanner use for cosmetic purposes.
Body Self-tanning Lotion Facial Sunless: This lightweight tanning lotion has an invisible feel and hydrating formula that'll leave your skin with a natural-looking sun-kissed glow.
Step #6: Again, Moisturize
It's time to maintain your facial tan with the moisturizer that best suits your skin type to keep your skin hydrated.
Benefits of Using Self-Tanning and Bronzing Products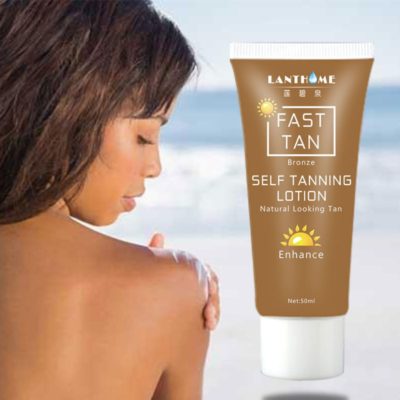 Self-tanners And Bronzers
Thanks to self-tanning products, now you have the opportunity to achieve the coveted sun-kissed tan without damaging your skin.
Self-tanning products are of various forms, including lotions, gels, sprays, mousses, and creams. First, of course, you have to choose the most compatible one with your skin type. The number of benefits goes higher when the tanning product formula is introduced with natural ingredients. The color additive dihydroxyacetone (DHA) is the active ingredient in self-tanning products.
Non-streak and quick-drying
Easy to apply, No sun exposure
Safety Concern and Ultra-hydrating
No self-tan smell
Easy to maintain long-lasting tan
Promoting Skin Health
Perfect for all skin tone
Non-greasy self-tan lotion
Your skin will not age faster
Give you a dark golden tan.
New mood-boosting fragrance
It makes your body look thinner.
Protect and deeply moisturize skin.
Sunless tanner has no harsh chemicals
The unique combination of natural ingredients
10 Self-Tanner Mistakes You Should Avoid
You can apply your fake tanner on your face like a pro by avoiding some self-tanner mistakes. Here have written some self-tanner mistakes.
You don't exfoliate beforehand.
You don't moisturize beforehand.
You don't use a tanning glove.
You select the wrong formula.
You heavily apply it to some areas
You skip your neck completely
You use too much amount
You are not flexing and bending
Shaving after tanning
You get dressed too quickly
Our Best Self-Tanner For Face
Let us share our best product for the job before we dive into how to apply self-tanner to your face. The body Self-tanning Lotion Facial Sunless is a multitasking self-tanner that can be used on both your face and body. The body Self-tanning Lotion is also a prime pick because it goes on streak-free, dries quickly, and can provide long-lasting color. What's not to like?
Precautions
Precautions to take when using a self-tanner make sure that you wax a day or two before starting using your tanner. Self-tanning can be pretty tricky, but you can get a tan similar to that done by a professional!
We have handpicked the best products for you that give excellent results. Our range of self-tanners and bronzers includes high-quality products that won't damage or harm your skin and are made with the best quality ingredients. As a result, they save you from exposure to harmful sun rays and give you a pleasant and smooth tan.
You can check our best facial self-tanner and bronzer lotion at
Happy Facial Tanning
Self-Tanning and Bronzing